A little bit about SteamTrainVideos.com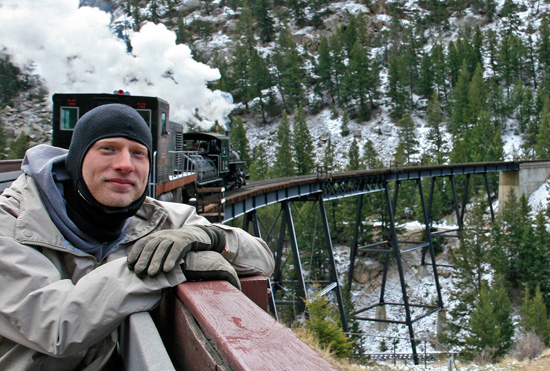 My name is James Parfrey and this is my website. I strive to produce the best in contemporary steam videos with superior camera work, flawless audio, and seamless editing. Unlike other videographers, I don't set up my camcorder, press record, and then pick up a still camera. I concentrate fully on recording video, and it shows in the quality of the final product.
To me, video is the only medium that can do justice to a steam locomotive. From capturing the movement of the external machinery (the main rods, the side rods, and the valve gear) to the reproducing the sound (the chuff-chuff of the exhaust, the clang of the bell, the cry of the whistle, and all the various hums and whines), a well-produced video should stimulate the senses. I work very hard to capture the moment; I hope my videos bring you as close as possible to the experience of actually being there.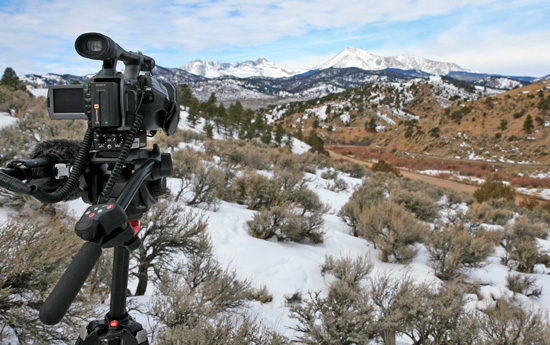 Thanks to my father, I was steam-obsessed as a boy; trips to the Strasburg Railroad and other steam operations were always the highlight of my summer vacations. I became a big fan of mainline steam after formative trips behind Nickel Plate Road 2-8-4 #765, Reading 4-8-4 #2102, and C&O 4-8-4 #614 in the 80's and 90's.
The seeds for this website were sown in late 2007 when I started posting videos on Youtube for family and friends. To my surprise, they quickly became popular with a much wider audience. I put together a few DVDs the next fall, and all of a sudden, my videos were more than just a hobby.
SteamTrainVideos.com was launched in January of 2011 to showcase and market the videos I had been making over the years. Because I do all the production, starting with the cinematography and ending with the final DVD design, you can be assured of a consistent high-quality product (unlike other producers whose quality may vary widely from DVD to DVD). I only release video that I'm proud of, and I put my name on everything I release.
But enough from me, here's what customers have to say:
"Hi James, I've bought some of the Blu-ray DVDs about the Cumbres & Toltec RR and the Silverton Train (Steam in the Rockies). The DVDs are absolutely perfect. Best video quality, only hard working locomotives, no unnecessary comments. GREAT."
-Christian S.
"I recently purchased 2 of your Blu-Ray video's, the Vol. 1 & 2 of Colorado Steam and WOW, am I impressed! You are not exaggerating when you say that you're producing for the rail enthusiast. Beautifully edited, shot, and so forth! Really, really well done! I certainly hope that you're getting enough Blu-Ray orders, as it's entirely worth the added cost for this format. Again, thank you for your great work, and I'm sure I'll be purchasing more of your videos!"
-John B.
"Just watched your 425 Autumn Leaf Excursions DVD...one word...WOW...it was worth every penny! The quality is amazing."
-Ian M.
"Just wanted to let you know that I think the Chama Steam video is superb. I appreciate the lengths you went to to get to some of the locations. The video has allowed me re-live the 4 day experience. Thanks for capturing this event."
-Paul P.
"James, Just finished watching your video of the Chama Steam 2013 extravaganza. Wow!!!! It is wonderful. I was privileged enough to ride that excursion and really enjoyed the shots you were able to get that, those of us who rode, were not able to get. What a treat. Thanks for your efforts in shooting and editing the footage that you took."
-Tom K.
"I just received Berkshire In The Alleghenies (NKP 765) in yesterday's mail and viewed it in its entirety yesterday evening. I was very impressed with your work and especially your smoothness while filming. In my opinion this DVD is top notch, to say the least. I especially liked that you briefly noted the locations in your video and your occasional notations were well spoken, brief and to the point both of which brought the video to a much higher level of quality."
-Jeff M.
"James, I just finished your Grand Canyon DVD and was blown away! Finally, somebody gets it. Minimal narration, no corny background music, and absolutely gorgeous video. I jumped online and bought Steam in the Rockies 2 and can't wait to see it. Please keep up the great work and I'll keep buying them!"
-Steven R.
"James, Just wanted to shoot you a quick email. I just received my copies of the C&O 614 and UP 844, I can honestly say they are the best steam captured moments I have ever seen. Coming from a family that was around railroads for 3 generations, these videos really brought us back. Awesome job, and keep up the great work."
-Mark B.
"James, I received my UP-844 DVD today in the mail and just finished viewing it. All I can say is it is GREAT! I have tons of videos from just about all the big names and your one video puts them all to shame. There isn't a single scene in there that I didn't like including the "extra" footage. WELL DONE! Thank-you."
-Bob J.
"James, Thank you for the great DVD - UP 844 South to the Southwest. It is one of my favorite top train DVDs. The production overall is excellent, the photography, sound, editing, packaging and quick shipping. Keep up the great work."
-Lawrence L.
"James, I received the 844 DVD last Thursday (2 day delivery) and it is great. I've watched it about 7 times so far!! Love the pace scenes. Everything runs together real smooth. I like how they had a light train on her. It seemed to make things more fast paced. Thanks, Karl"
-Karl A.
"I just finished watching Reading and Northern 425 Vol. 2. These are simply outstanding DVDs. The quality of the picture, to the editing, to the shots themselves to the incredible sound. That 425 has the most amazing bark I have ever heard. I always thought Frisco 1522 was loud but that engine is ridiculous! I never heard an engines bark actually clip a mic! Thank you for the cab footage by the way. I also found it fascinating when you would film the engine passing under you, I could almost feel the force of the exhaust blast...very cool."
-David L.